Regular price
Sale price
$34.00
Unit price
per
Sale
Sold out
SCENT PROFILE

Top: Blood Orange, Cinnamon Bark, Fresh Nutmeg
Middle: Ginger Snap, Plum Honey, Fir Balsam
Base: Cacao Blanc, Brown Vanilla, Cedarwood

CATEGORY: citrus
DETAILS

The 10oz Classic vessel measures 3.54" all around and is made of recycled Spanish glass. Each vessel varies very slightly and has a lightly cobbled finish/appearance as well as a greenish blue hue consistent with recycled glass products. The approximate burn time of candles within this vessel is 56 hours.

The 11oz Tessa tortoise vessel measures approx. 3.5" wide by 4" high. The measurements are approximate as this is a hand blown vessel with slightly varying sizing. As such, the approximate burn time of this vessel is 60-65 hours.

These candles are hand-poured in small batches and feature high quality, clean-burning ingredients that create lower environmental impact than your standard candle. They are phthalate-free, toxin-free, paraben and gluten-free; and the wax comes from renewable sources. The luxury fragrance oils provide great hot and cold "throw" while being safer to burn for yourself and your loved ones because they do not contain any reproductive toxins. Due to their handmade nature, variations may occur and are natural within both my wax and glass vessels.

My candles are wicked with crackling wooden wicks that are FSC certified, sustainably sourced, and provide instant ambiance to any space. The pairing of this wax blend and the wooden wicks provides you a slower burn that lasts longer— giving more bang for your buck! It is important to keep wicks trimmed to ¼" height to ensure the wick is performing properly and safely. Wicks can be trimmed by hand (once cooled!), with nail clippers or a wick trimmer from my shop. A candle should never burn every last piece of wax inside of it as this creates the perfect scenario for vessel shattering due to overheating. All wicks are placed with safety clips that extinguish flames when the wax pool reaches the last ½". Please follow the instructions included on your candle care card within your package for maximum safety and perfected burning.
CANDLE CARE

Plan your first burn to be no shorter than two to three hours. This will allow the candle to create a melt pool across the most of the diameter of the candle vessel, This helps set the candle up for success for future burns by avoiding "tunneling", although a small lip of wax is okay early on in the burn. Coconut wax candles burn hotter as they work down the vessel and will eventually catch small hang-ups.

In the same vein, "power burning" is not recommended - power burning is burning a candle for more than four or five hours at a time.

Never attempt to touch or move a burning candle.

Keep your wick trimmed to 1/4" prior to each burn. This will ensure the wick is performing properly and safely. This can be done using your fingers once the wax has cooled, a nail clipper or a wick trimmer.

Never attempt to burn a candle to the very bottom of the vessel. These candles and wicks are designed to leave 1/2" of unburned wax to protect the candle vessel from overheating and potentially cracking.

Always keep an eye out by burning your candle where it can be watched. Do not allow a candle to burn out of sight or on/near any flammable objects.

Leave the melt pool of your candle free of debris (such as bits of charred wick)

Please keep candles away from children and pets and enjoy.
View full details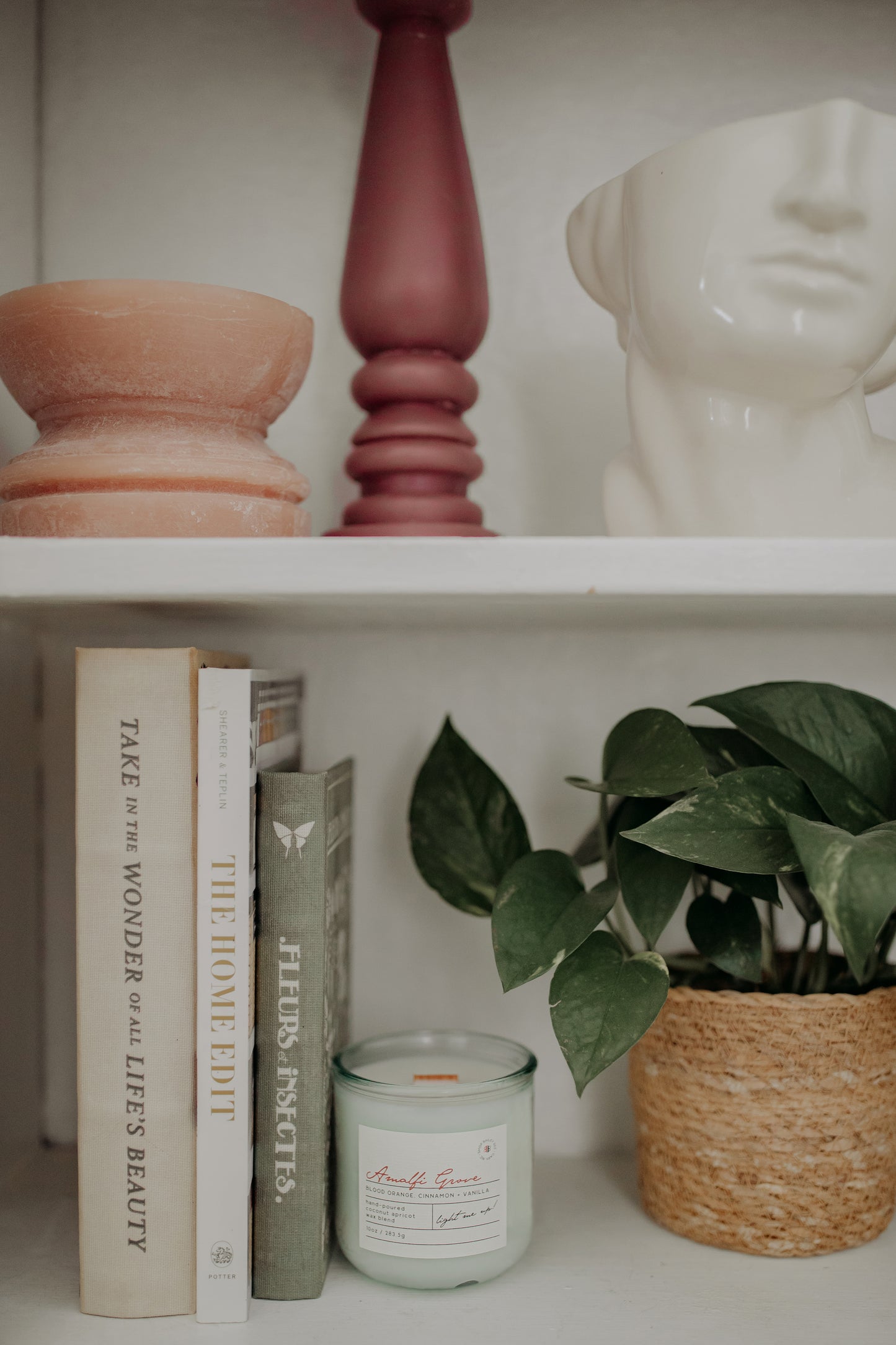 I LOVE YOUR CANDLES!
Purchased my first candle by you at a pop-up event in Southern Pines (Amalfi) and have been hooked since.
Amalfi Grove Classic Candle
Best Candle Ever
Probably my favorite candle scent of all time.. smells so luxurious and warm. Also they last FOREVER!!! I burn it so much and there's still so much left! Did I mention the ultra fast shipping too?? If you're on the fence buy this (and some others too).
All time favorite
I can tell this candle is going to be one of my all time favorites from here on out. It's perfect for the fall but also nice in the summer as the blood orange brings out a nice fresh scent. You will not be disappointed!
AMALFI GROVE
I received a sample of Amalfi Grove when I ordered my candle wick trimmers. I loved the scent so much that I had to order it. I will have to order more of them soon. BaileyBee was quick to respond to my questions and there was no issues with shipping.