Regular price
Sale price
$34.00
Unit price
per
Sale
Sold out
SCENT PROFILE

Fall 2023 Scents:

🍎 Apple-lachia
Top: gala apple, pear nectar, white peach
Middle: cinnamon, clove leaf, peony
Base: vanilla, tart red berry

🧁 Autumn Haze
Top: clove, buttercream
Middle: cinnamon, burnt sugar, tonka
Base: whipped vanilla

🥐 Flakin' It
warm puff pastry, butter, wheat
(smells like a fresh croissant!)

🎃 Golden Harvest
Top: blood orange, kumquat
Middle: pumpkin, persimmon, clove, allspice
Base: ginger, brown sugar, vanilla

🏕️ Toasted Ghost
Top: elemi, tobacco leaf, cacao
Middle: roasted chestnut, wild sumac
Base: smoked vanilla, birch, guaiacwood
DETAILS

The 10oz Classic vessel measures 3.54" all around and is made of recycled Spanish glass. Each vessel varies very slightly and has a lightly cobbled finish/appearance as well as a taupe hue unique to my seasonal collection. The approximate burn time of candles within this vessel is 56 hours.

These candles are hand-poured in small batches and feature high quality, clean-burning ingredients that create lower environmental impact than your standard candle. They are phthalate-free, toxin-free, paraben and gluten-free; and the wax comes from renewable sources. The luxury fragrance oils provide great hot and cold "throw" while being safer to burn for yourself and your loved ones because they do not contain any reproductive toxins. Due to their handmade nature, variations may occur and are natural within both my wax and glass vessels.

My candles are wicked with crackling wooden wicks that are FSC certified, sustainably sourced, and provide instant ambiance to any space. The pairing of this wax blend and the wooden wicks provides you a slower burn that lasts longer— giving more bang for your buck! It is important to keep wicks trimmed to ¼" height to ensure the wick is performing properly and safely. Wicks can be trimmed by hand (once cooled!), with nail clippers or a wick trimmer from my shop. A candle should never burn every last piece of wax inside of it as this creates the perfect scenario for vessel shattering due to overheating. All wicks are placed with safety clips that extinguish flames when the wax pool reaches the last ½". Please follow the instructions included on your candle care card within your package for maximum safety and perfected burning.
CANDLE CARE

Plan your first burn to be no shorter than two to three hours. This will allow the candle to create a melt pool across the most of the diameter of the candle vessel, This helps set the candle up for success for future burns by avoiding "tunneling", although a small lip of wax is okay early on in the burn. Coconut wax candles burn hotter as they work down the vessel and will eventually catch small hang-ups.

In the same vein, "power burning" is not recommended - power burning is burning a candle for more than four or five hours at a time.

Never attempt to touch or move a burning candle.

Keep your wick trimmed to 1/4" prior to each burn. This will ensure the wick is performing properly and safely. This can be done using your fingers once the wax has cooled, a nail clipper or a wick trimmer.

Never attempt to burn a candle to the very bottom of the vessel. These candles and wicks are designed to leave 1/2" of unburned wax to protect the candle vessel from overheating and potentially cracking.

Always keep an eye out by burning your candle where it can be watched. Do not allow a candle to burn out of sight or on/near any flammable objects.

Leave the melt pool of your candle free of debris (such as bits of charred wick)

Please keep candles away from children and pets and enjoy.
View full details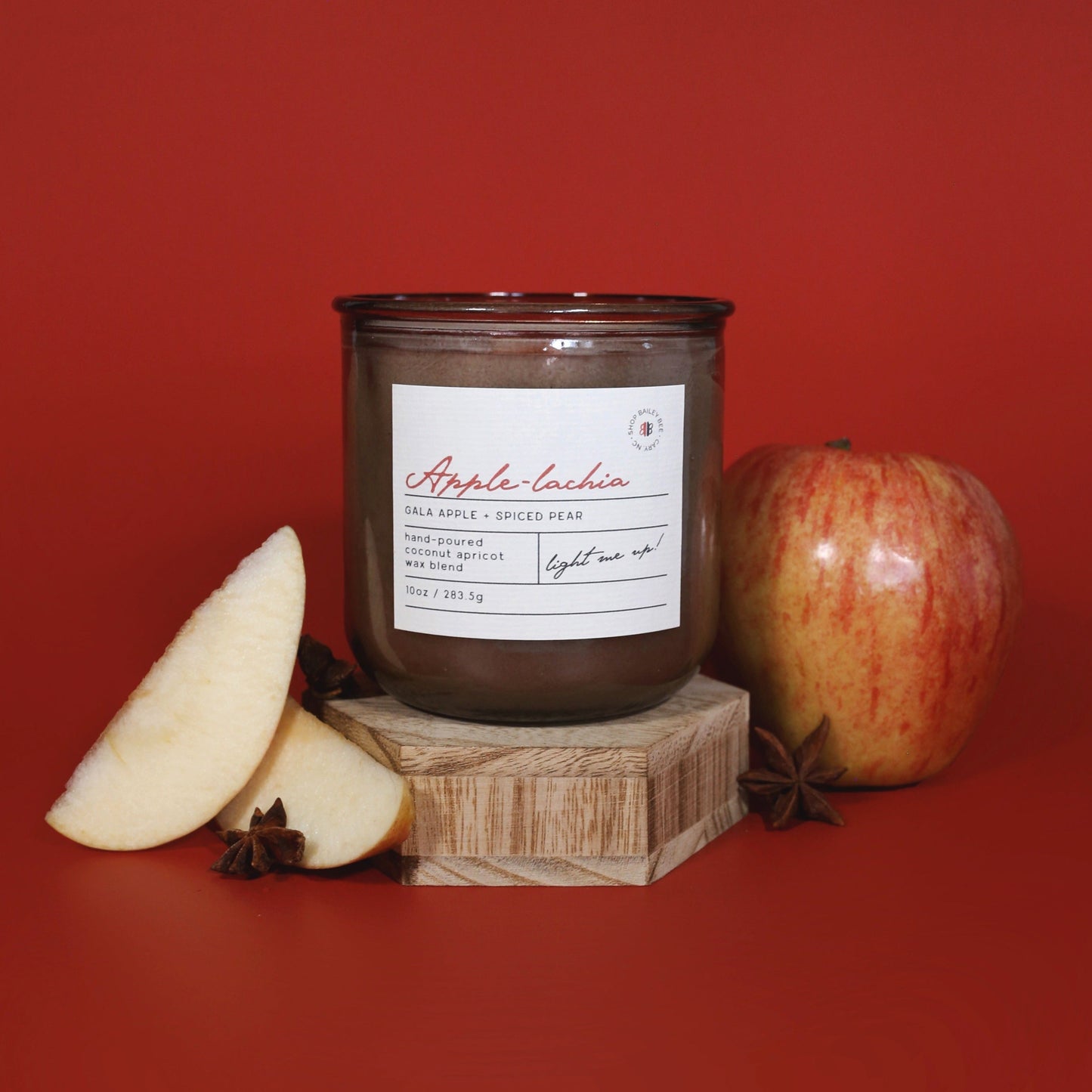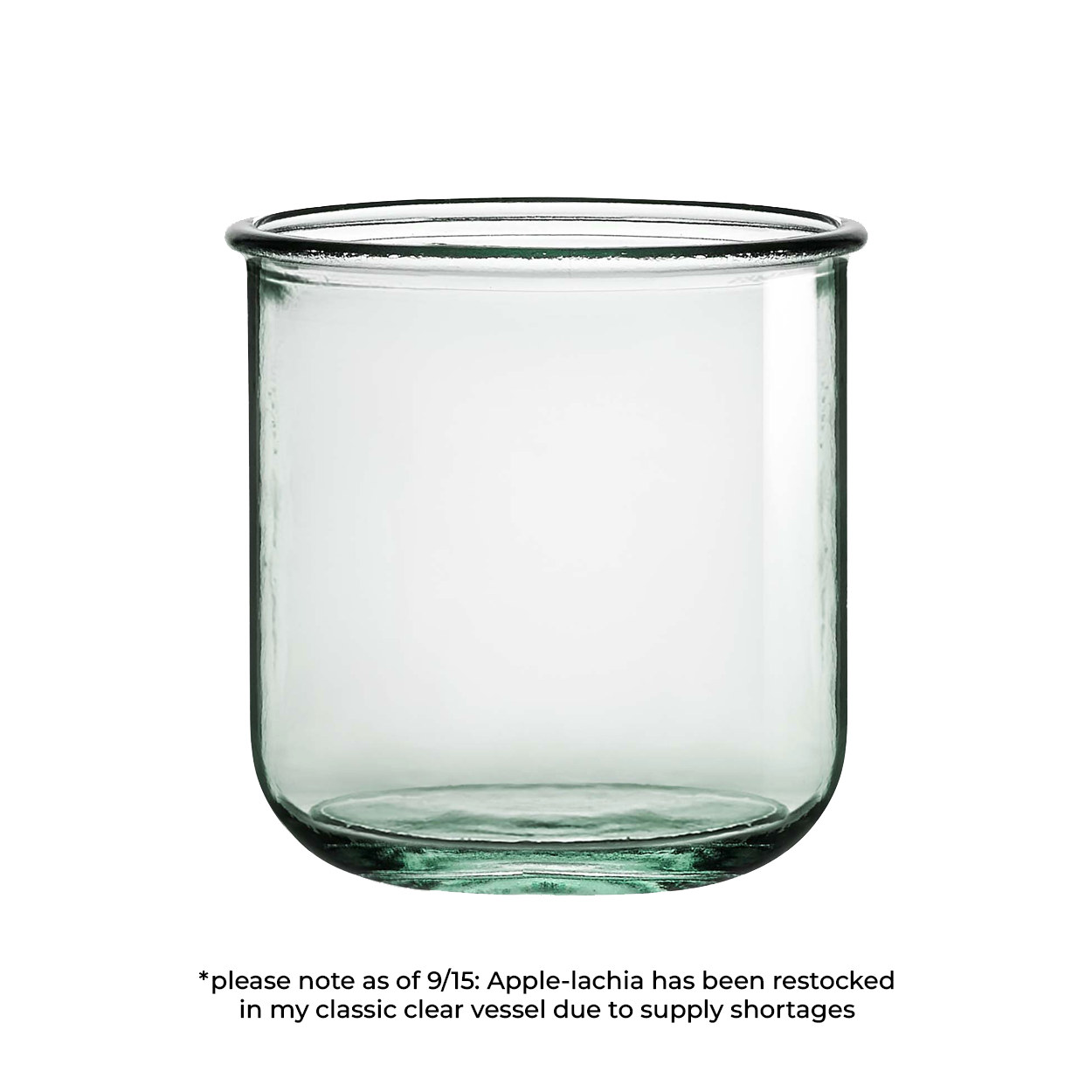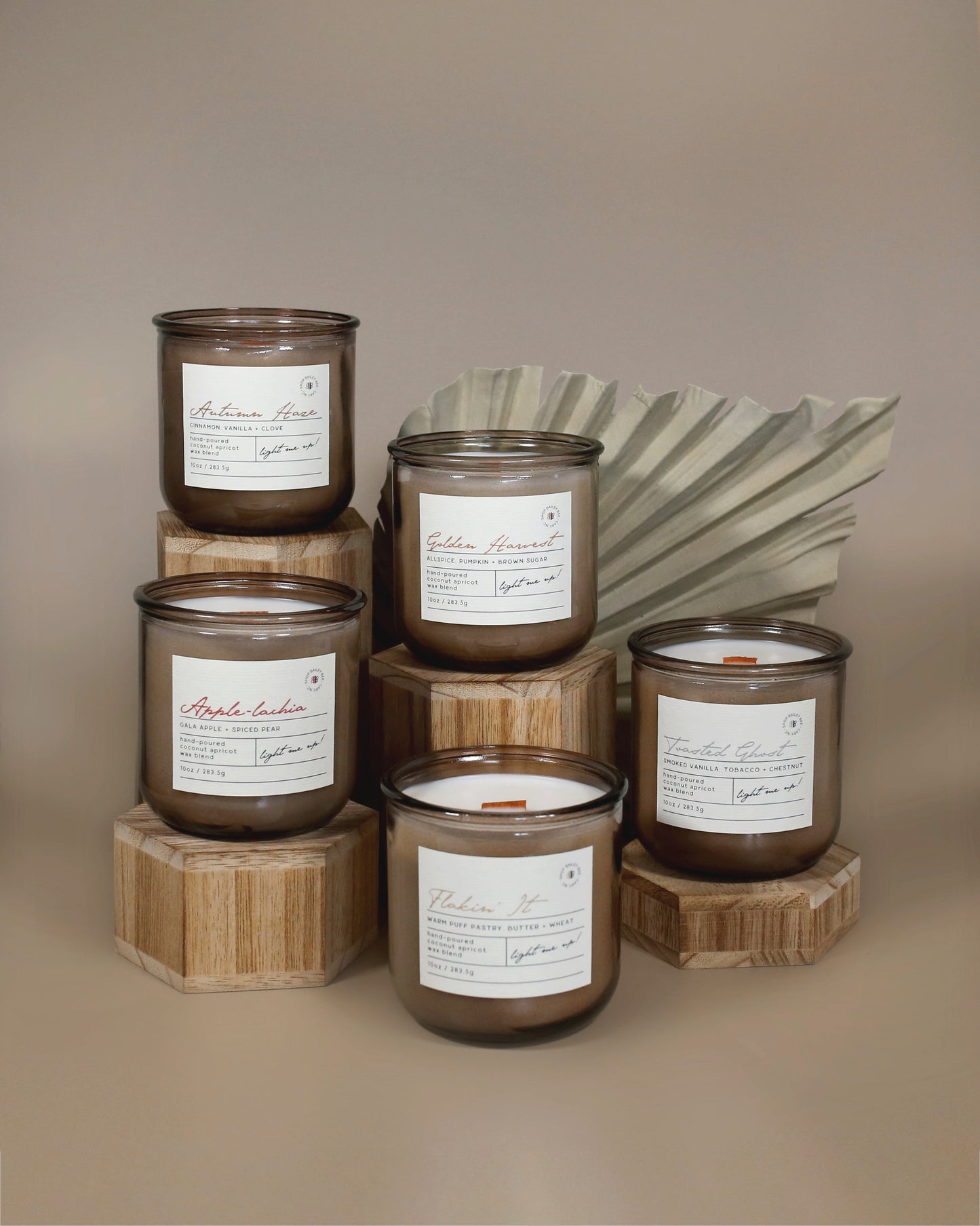 Apple orchard vibes
Do you want to feel like you are walking through an apple orchard, sipping some fresh hot cider? This candle will give you all the happy fall feels! Just the right amount of scent- not overpowering, but also fills the room.
An Apple Orchard in a Jar
This is not just any apple scent; it's as if someone plucked the juiciest, most perfectly ripe apples, gave them a gentle squeeze, and captured that essence in this little jar. The scent is neither overpowering nor artificial; it's a harmonious balance of sweet and tangy, with just a hint of cinnamon to give it that unmistakable fall twist.
Be warned: this candle has a magical ability to awaken the most intense cravings known to mankind. Brace yourselves, dear candle enthusiasts, for it will unleash a hunger for apple cider donuts and apple pie that no snack aisle can satisfy.
LOOK NO FURTHER FOR A FALL/APPLE CANDLE
This candle is the perfect mix of crisp sweet apple and cozy clove and cinnamon. Smells like warm apple crumble fresh out of the oven.